Corporate Training:
Non Manipulative Sales Skills, Team Building, Coaching, Seminars

Skills & Habits of Highly Effective Management Communication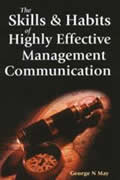 19 modules providing management with the tools to enhance success in their challenging role as communicators and motivators.  
Highly Effective Management Communication is a 19 module coaching tool like no other - covering every aspect of Effective Communication to enhance success in the transmission and reception of messages through skills in communication, persuasion and negotiation ensuring the best possible outcome for the manager, the company and the receiver.
The Contents of the 19 Modules      
What Management Communication Means
Developing Awareness Of Communication 1
Developing Awareness Of Communication 2
Self Analysis For Effective Communication
How To Communicate Effectively
Methods Of Communication
Communication To Motivate
Handling Basic Problems In Communication
Developing Skills In Spoken Communication
Developing Skills In Written Communication
Developing Skills In Telephone Communication
Steps For Conducting Training Sessions
Communication In The Interview Situation 1
Communication In The Interview Situation 2
How To Multiply Your Listening Efficiency
How To Multiply The Efficiency of your memory
How To Overcome Resistance To Change
How To Achieve Effective Communication in your area of Responsibility
How To Implement Effective Communication in your Organisation

WHY COMMUNICATION IS SO IMPORTANT
The profitability of any business activity depends on effective communications.
Your business, like any other, gets its results through people, and you can only get results through people by using effective communication.
For this reason, the average Australian manager spends 80-90% of their time in direct communication with people.
What communication work do they do?
The following list compiled from a survey conducted with many executives
gives a detailed analysis of a business day in the life of a typical manager.
Giving information to subordinates.
Praising subordinates.
Interpreting department policies and instruction.
Correcting subordinates for mistakes.
Instructing on what and how to work.
Making assignments to subordinates.
Following up on assignments or work progress.
Negotiating with equals.
Getting information - Art of asking questions.
Advising subordinates at their request.
Stimulating others to continue or increase effort.
Leading conferences to train or sell a conclusion.
Persuading someone not responsible to you.
Conciliating or mediating subordinate disputes
Small chitchat.
Speech-making inside and outside the business.
Instinctive skill and experience is often not enough to equip today's manager with the skills needed to deal with the complexity of their role.
The Skills & Habits program for highly effective management communication provides the tools that management need to have available to use in every aspect of the challenging role as a modern manager.
Vance Packard in his book "The Pyramid Climbers" makes these observations on the widely developing recognition of the vital importance of communication in Management: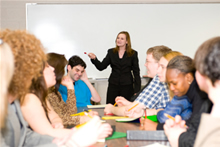 "With managers spending more and more of their time in committee meetings, conferences, conventions, and community affairs (as corporate ambassadors), the demand for good communicators at high levels has grown."
Executives lament that they seem to be selling ideas all day long.
A former auto executive stated: "All they do is sell to each other. You never saw such a place for conferences. They spend all morning at it, they go upstairs to lunch together and they are back at it all afternoon, making presentations to each other." And then, chances are that many of these people will end the day dictating memos - preferably confined to one page - advising their bosses with precision just how things stand.
A number of executive recruiters stressed the fact that the ability to express oneself well - orally and in writing - is tremendously important for the top fellows. Recruiter Ashton Dunn said this ability to express yourself well is so important that he is wary of a candidate who seems unable to explain in clear, interesting fashion what they have been doing at their present job. Dunn said he is always suspicious if it is hard to pull out the persons story. He said he had the most trouble with engineers "unless they/are administrative engineers".
As corporations increase their number of hierarchy layers the difficulties of communicating with anyone more than two layers away become especially formidable. Written thoughts that go through channels tend to get garbled, both intentionally and unintentionally. A report in the Financial Review stated that the higher the executive stands in the organisation the more their world is one of words.
Words then become tools of the first importance for the rising executive.
And the good executives appear to be well equipped.
"The most important executive characteristic of which we are certain and which we can measure accurately is the ability to communicate and give clear instruction."
Top executives score even higher than college professors and lawyers on word meanings.
The Highly Effective Management Communication Program is designed to provide the manager with the tools to help enhance success in all aspects of communication as well as personal development.
The Challenges of Effective Communication
A definite relationship exists between communication and employee productivity.
Labour disputes and strikes are definitely linked to breakdowns in communication.
Many factors contribute to communication breakdowns; but the greatest single factor is inadequate use of communications media.
Oral communications are at least as important, or more so, than written ones.
Most managers cannot communicate effectively enough.
While natural talent is a factor in the possession of this ability, it is not the only one.
Far greater communicative ability can be developed through training and experience.
Communication training of some type should be offered to management personnel at all levels, from the president on down.
The authority that the communicator has by virtue of their position in the firm has an effect on how their ideas will be received.
The effectiveness of management personnel is greatly dependent upon their ability in oral communication.
The 19 modules in Highly Effective Management Communication will provide immediate and long-term benefits to any organisation.