Corporate Training:
Non Manipulative Sales Skills, Team Building, Coaching, Seminars

The Skills & Habits for Success in Australian Business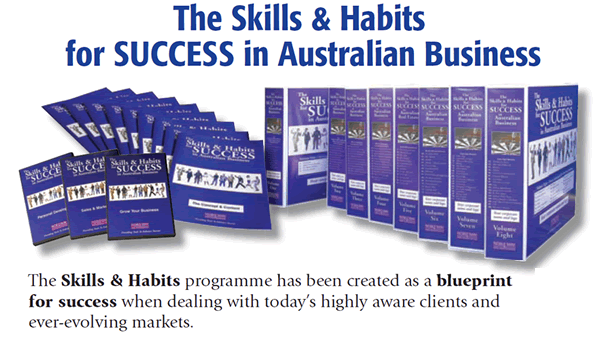 Tools to enhance success for the self employed sole trader to the Fortune 500 multinational
Exceptional Value - 108 modules
$4,820.00
Doing business in Australia in =date('Y')?> is nothing like doing business just one year ago.
This is the most challenging business environment most business people have ever experienced
Today's clients are better informed
They have a wider range of choices
They are more aware of their rights
The Internet is completely changing entire industries and corporate cultures
There are more competitors eroding your profits through discounting
The worldwide market availability of products is easily accessed
And so much more …
Why is there so much change?
In the past year, decades of tried and true business methods have been washed away by the economic environment and in many cases the information revolution.
Entire industries are being shut down, changed and re directed.
The main thing that will make the difference between a successful, profitable business with a stable long-term future - and one that struggles is this … the skill level of the people in the business.
What are the crucial points to consider?
How effective are the people in the business within their role?
Can they deal with this economic environment and today's highly aware clients?
How well do they adapt to change?
Does their skill level allow them to compete in this competitive market?
Can they persuade while having the other persons best interest at heart - today, anything else will quickly drives clients into a negative decision mode.
Do they make good choices when recruiting?
Are their customer service skills exceptional?
Can they pass on skills to others?
In every industry there are those who can give you 100 reasons why goals and targets are not being achieved – the economy, products, service, competition, price, regulation, etc.
The harsh reality is this … all that is happening or will happen to your business is a direct result of your own and your people's decisions, skills, talent and ability.
The single most important thing you can do to maximise your business success is to invest in yourself and your people … Learn skills that work and last !
"When you train hard you will fight easy"
The Art of War Sun Tzu 400BC
Contact us at: george@noblemay.com.au
Skills & Habits has been written by some of Australia's most successful business people with regular updates to keep pace with our ever evolving market.
The results gained from the proven techniques and skills in just one of these modules could easily offset the investment.
VOLUMES ONE & TWO

Sales, persuasion and communication

Introduction
Applied psycho-cybernetics
The effective qualities
The ASSET attitudes
Emotional control
The VALUE benefits
Using the VALUE benefits
Product analysis exercise
The creative approach
The mechanics of the approach
Making appointments
The perfect presentation
The demonstration
Objections and their causes
Benefit from objections
Structured concluding skills
Ask for your objective
Welcome complaints
Physical preparation
Mental preparation
Emotional preparation
Self analysis for persuasion

VOLUMES THREE & FOUR

Effective management

communication

What effective management communication means
How to communicate effectively
Handing basic problems in communication
Communicate to motivate
Methods of communication
Communication in the interview situation – 1
Communication in the interview situation – 2
Developing skills in conducting meetings
Steps for conducting training sessions
Developing skills in spoken communication
Developing skills in written communication
Developing skills in telephone communication
How to multiply the efficiency of your memory
How to multiply your listening efficiency
How effective communication will overcome resistance to chance
How to achieve effective communication in your area of responsibility
How to implement effective communication in your organisation
Psycho-cybernetics and effective management communication
The EFECTIVE qualities and management communication
The ASSET attitudes and effective management communication
Self analysis for effective communication
Developing awareness of communication – 1 (questionnaire)
Developing awareness of communication – 2 (questionnaire)
VOLUMES FIVE & SIX

Personal development

Introduction
Silhouette of success
Self image
Self discipline
Possibility thinking
Creative imagination
Enthusiasm
Stickability
The self
Who am I?
Physical self
The social self
The psychological self
The ideal self
The self in action
Self-identity
Attitudes
Typology (character structure)
Traits and types
Personality growth
Motivation
Determination and image fixing
Be the self you need to be
The occupational person
The group person
Human values
Leadership skills

VOLUMES SEVEN & EIGHT

Proven techniques for getting

more profitable business at less cost

Generating leads from the Internet
How Search Match domain names can collect click traffic
How to buy High Ranking .com & .com.au domain names for around $12.00
The Key to making money on the internet with minimal outlay.
Yellow pages
Trade shows and expos
Television advertising
Websites
The mock cheque
Telemarketing
Sponsorship
Great headlines
Special offers
Testimonials and referrals
Direct mail
Networking
Newspapers and magazines
Loss leader strategy
Lead boxes
Objections and causes
Logos
Making appointments
Qualification checklists
Re-write quotes
Selling a wider range
Selling attitudes and attributes
Staff, office and vehicle presentation
USP's – Unique Selling Propositions
Why test and measure
More on Skills & Habits
The first 'Blueprint for Success' for any business from the self employed sole trader to any multinational.
Thousands of individuals and companies from two-person brokers to multinationals throughout Australia, the USA, UK, Asia and New Zealand have used these modules to enhance success.
Skills & Habits currently consists of 108 modules on personal development, selling skills, marketing, lead generation, recruiting and effective management designed to enhance the success of any Australian business.
There is a quarterly update module on the latest marketing developments , internet techniques and such
The program is delivered in hard copy and online - as a 'hands on' training tool for a business owner / trainer or as the training materials for a customised coaching program with our qualified business coaches.
These are challenging times for almost every business.
Only the learners will be successful – the thinking for success today is best outlined in this quote
"In times of change the learners shall inherit the earth while the learned find themselves wonderfully equipped to compete in a world that no longer exists"
What clients say about the program.
"Skills & Habits is a proven Australian sales and marketing program second to none. We have taken the program and had it customised in a hands-on session with our team of directors and executive staff. A most important tool for every one of us under the Raine & Horne banner   
CEO: Raine & Horne
"I have always believed that the only beneficiary of training programs were the companies who sell the training. This is different - it works! Business increased by over 100% on the same period last year. I can recommend it to anyone apart from my competitors.
National Sales Manager- Douglas Pharmaceuticals
"To have such success with each participant is an outstanding achievement. This program has resulted in a far higher direct conversion of applicants to enrolment applications. We highly regard & value this process.
Director CMS - Central Queensland University
"Any person who follows the principles outlined in this program will no doubt achieve success. A powerful training tool that focuses skill to where it can be used by an entire sales team, from the top professional to the newest recruit.
Training Manager - Retire Invest
"What could you teach us about selling ?-We are the most successful in our field with 40 years experience!"  In one word EVERYTHING!, the program is the most effective training we, as a group of management and experiences people have ever encountered, results have continued to increase over the past 5 years since implementation"
Managing Director- Trueline Aluminum/ Flexalum / Luxaflex
A brief overview of the modules
Volumes 1 & 2
Skills for sales, persuasion, negotiation and communication
These modules have been created to provide a precise methodology for impacting persuasion, communication skills, and personal development. This course has been designed to provide a thorough knowledge of professional Communication/Persuasion principles, as well as an understanding of many aspects of our personality, which play a vital part in the successful use of these principles and techniques. At the completion of each session there is a written assignment, which should be completed on the basis of one every seven to fourteen days. The assignments are designed to provide a basis to revise and study the relative notes, and decide how they can be applied to your situation.
1. Introduction to concept and contents
A brief introduction on how to best use the program and the expected outcomes
2. Applied psycho-cybernetics
Provides a clear understanding of how to achieve better results from people. This session multiplies the value of every session that follows, because it helps participants to:
Use the tremendous capacity of their unconscious minds to help them to succeed.
Believe in their capacity to improve.
Remove the limitations that handicap them most.
Absorb required knowledge faster, with better retention.
Apply what they learn effectively.
Develop qualities, skills, knowledge, and habits.
Improve morale and others' morale.
Enjoy greater success and happiness.
3. The effective qualities
Clearly defines the effective qualities that are essential to success in making a favourable impression on people. Secures acceptance by participants of their value. Establishes clear standards against which participants can measure themselves. Shows how to develop these desirable qualities quickly. Shatters complacency and strongly motivates participants to strive consistently to improve themselves.
4. The ASSET attitudes
Clearly defines attitudes that are an asset in helping us achieve those things that are most important to us as people. Maximises our self-motivation and eliminates attitudes that create problems. A vital session with very positive results.
5. Emotional control
Convinces participants of the importance of emotional control in achieving objectives and giving quality service to people. Shows how every decision is made to satisfy an emotional need. Gives a clear understanding of why emotions occur and how true emotional control can be achieved.
6. Physical preparation for selling, persuasion and negotiation
Clearly defines those physical attributes that make up today's professional salesperson, covering relaxation, health, diet, appearance, manner, speech, etc., as an overview towards the importance of our Physical Preparation for persuasion and negotiation.
7. Mental preparation for selling, persuasion and negotiation
Outlines why the most valuable preparation of all lies in forcing ourselves to think about our work. Mental preparation is hard work, but very rewarding.
8. Emotional preparation for selling, persuasion and negotiation
Eliminating that which causes us to create wrong attitudes and habits, putting worry in its place. Why emotional preparation is one of the most important preparations you can make.
9. Self-analysis for selling, persuasion and negotiation
Shows how to learn from experiences, how to get the best results for yourself, results which will be long-lasting and benefit the person throughout their life.
10. The VALUE benefi ts
Introduces and clearly defines the benefi ts all people look for in any product, idea, or service they consider buying. Shows how to help prospects find the particular benefits they want in the product or service provided.
11. Using the VALUE benefi ts
Provides a simple but highly effective system of enthusing participants on the benefits of the products they sell and services they provide. Helps them to enthuse others and find out which particular benefits each customer wants most, and how to provide those benefi ts.
12. Product analysis exercise
A practical exercise to develop skill in the three-step analysis technique that will highlight the most effective benefit points for any product, idea, or service.
13. The creative approach
Convinces participants of the vital importance of the first impression they make on people and its effect on the customers' satisfaction and their own job satisfaction. Motivates participants to give careful attention to their appearance, manner, speech, and personal habits; their knowledge of people; their knowledge of their role; their emotional control.
14. The mechanics of the approach
Convinces participants that their every action and every word will have favourable or unfavourable effect on a customer, and shows how to win customers' liking and confi dence.
15. Making appointments
Explains why prospecting and networking is important to every person. Provides a practical procedure, which people should use to prospect/ network effectively and consistently.
16. The 'perfect' presentation
Outlines the objectives of a good presentation. Gives people in any field a step-by-step procedure for making effective presentations.
17. The demonstration
Explains the 9 principles of a convincing demonstration. Shows the importance of using visual and audio-visual aids, and how to get the best results with them. Provides a thorough analysis of how we can provide proof, or convincing evidence, that claims are justifi ed.
18. Objections and their causes
Demonstrates how to remove the environment, which breeds objections, and shows how to be prepared in advance to answer any objection prospects might raise. How to use valuable proven techniques for answering objections.
19. Benefit from objections
Develops the right attitude toward objections; how to handle hidden objections. Provides a complete procedure any person can use successfully to handle objections of every kind.
20. Structured 'concluding' skills
Outlines the thirteen principles that lead to effectiveness in concluding interactions. Shows how to use an organised sequence of powerful closing actions.
21. Ask for your objective
Provides valuable tips that focus on how to conclude sales professionally without wasting time or upsetting customers.
22. Welcome complaints
Provides a practical procedure for handling complaints, which enables participants to win Customers-for-life rather than losing customers. An extremely valuable session.
VOLUMES THREE & FOUR
Effective Management Communication
23. What effective management communication means
Clearly defines the importance of Effective Management Communication in all aspects of today's management role. Shows why Effective Communication is essential to create the environment for the effective transmission and reception of messages with the objective of securing desired results. Outlines the importance of Perception, Connotation, and Association in communication.
24. Psycho-cybernetics and effective management communication
Provides a clear understanding of how to achieve better results from people. This session multiplies the value of every other session, because it helps participants to:
Use the tremendous capacity of their unconscious minds to help them to succeed.
Believe in their capacity to improve.
Remove limitations that handicap them most.
Absorb required knowledge faster, with better retention.
Apply what they learn effectively.
Develop qualities, skills, knowledge, and habits.
Improve morale and others' morale.
Enjoy greater success and happiness.
25. The ASSET attitudes & effective management communication
Focuses on the attitudes that are an asset in helping us achieve those things that are most important to achieve. Maximises our self-motivation and eliminates attitudes that create problems. A vital session with very positive results by outlining how to eliminate that which causes us to create wrong attitudes and habits, putting worry in its place. Why Attitude Preparation is one of the most important preparations you can make for the job of Management.
26. The EFECTIVE qualities & management communication
Clearly defines the effective qualities that are essential to success in making a favourable impression on people. Secures acceptance by participants of their value. Establishes clear standards against which participants can measure themselves. Shows how to develop these desirable qualities quickly. Shatters complacency and strongly motivates participants to strive consistently to improve themselves.
27. Self-analysis for effective communication
Shows how to learn from experiences, how to get the best results for yourself, results which will be long-lasting and benefit the Manager throughout their life. The system has its own built-in survival factor and will continue to produce outstanding results for many years.
28. Developing awareness of communication – 1 (questionnaire)
A valuable tool for use in clarifying and assessing a Manager's understanding of the importance of Effective Communication. Allows the participant to self-access their "rating" on how well they Communicate with others.
29. Developing awareness of communication – 2 (questionnaire)
A company-focused Questionnaire outlining the 20 communication strengths any organisation needs to be effective. Lets the participants see how their individual strengths and the organisation's requirements can best be encapsulated.
30. How to communicate effectively
Provides a clear understanding of the problems faced in Effective Communication. Shows the barriers involved in faulty Communication as well as those involved in faulty Reception. Shows what to do and what not to do to establish good relationships through Effective Communication.
31. Communicate to motivate
Lets the Manager see that all Communication is Communication to motivate. Why human relations are defined as "Applying knowledge of people to influence their behaviour." Shows clearly what people want and what motivates us to achieve what we want. Outlines the effective channels of communication within an organisation.
32. Methods of communication
Shows how we can go about communicating. The methods of conveying information. Gives clear direction to meetings, telephone, face-to-face, and letters, etc., as means of communication. Outlines the 6 skills of communication. Concludes with communication exercises and questionnaires.
33. Developing skills in spoken communication
Demonstrates how to address groups. The opening techniques, and delivering the message. How to conduct a perfect presentation. Gives the manager a step-by-step methodology for conducting every form of spoken Communication. Clearly shows the mechanics that add impact to communication.
35. Communication in the interview situation – 1
Shows strategy and defines the methods, skills, and structures for conducting skillful interviews for the purpose of: selection, induction, personnel appraisal, attitude evaluation, termination, fact finding, obtaining information from leavers, corrective guidance and erasing a disappointment. Importantly, shows how to evaluate the 'Can Do' and 'Will Do' qualities in individuals. Gives precise sequences of questions to ask in interviews as well as what to look for in the answers.
36. Communication in the interview situation – 2
This session deals with fact fi nding, corrective guidance, and erasing a disappointment. Shows how to set objectives, prepare, conduct, and conclude effective interviews.
37. Developing skills in written communication
Why it is so important to write clear, concise, and convincing business letters, email, faxes, and reports. Gives all of the essential ingredients for effective written communications. Why your peers, senior management, and clients will judge your skill (above all else) by the letters you write.
38. Developing skills in telephone communication
Why every call we make is a job of infl uencing. The traps to avoid. How to deliver good telephone communication. Exercises that give you a better level of clarity in listening effectively. How to overcome any objection on the telephone. Handling complaints.
39. Developing skills in conducting meetings
Essential skills for every manager. Why today's manager has to be a leader. Why skill in conducting meetings motivates others. The mechanics of effective meetings. The methods used, role-playing and the tools that are available. How to prepare thoroughly. General principles for conference leadership. How to master the use of questions.
40. Skills and steps for conducting training sessions
There are 10 steps for conducting training sessions that work. Each is thoroughly encapsulated in this session with specific pointers on how to apply them to your environment.
41. How to multiply your listening effi ciency
Most people don't listen effectively. How well do you listen? How we can listen effectively. Learning how to listen to understand and not listen with the intent to reply.
42. How to multiply the efficiency of your memory
The proven memory techniques that work and last. Visualize, Associate, Stacking, Rhyme, Pegging. How to dramatically improve your memory fast.
43. Handing basic problems in communication
A series of practical team and personal exercises on perception, persuasion and negotiation. Shows how to communicate with an employee who has a problem. Self-evaluation test on how well you communicate. Clearly shows the advantage of being open-minded and willing to step outside our paradigm.
44. How effective communication will overcome resistance to change
A thorough look at why homeostasis exists. Change and groups. Why there is resistance to change from senior management. How to avoid resistance to change. Implementing programs that encourage and embrace change as a necessary part of the progression of any successful business. Why any business doing the same thing this year as last year is in trouble due to the Law Of Change.
45. How to achieve effective communication in your area of responsibility
What the individual can do to improve good communications. How to enthuse others on keeping the main thing the main thing. Methods for self-analysis and self-development. The Communication Formula for achieving good communication in your area of responsibility.
46. How to implement effective management communication in your organisation
A series of questions and revision tests that enforces the importance of the skills and methodologies outlined in the previous sessions.
VOLUMES FIVE & SIX
Effective Personal Development
47. Introduction - The Concept & Content
This material was researched and prepared for you not just to read. It was prepared for you to experience and enjoy. It is a structure of learning that leads to involvement. It is an investigation of the process that results in the experience of living your business & personal life in harmony with your highest worthy values. It is a discovery of the thrill and meaning of accomplishment. It is an exploration of your journey through each day, from everyday living to the anticipation of the exciting event each day can become. It is a "Blueprint" into action and achievement.
48. Silhouette of success
Success is a relative phenomenon. Can we create "success" within laboratory conditions? Are success and achievement one and the same? Each individual's concept of success is as tailor-made and as personal as our own skin. To some it is a business venture, to others recognition in the community, political powers, or again, to some it is the enjoyment of helping others live a little better as human beings. When some individuals reflect on their lives and are unable to affirm any particular success in even one area, many times it is because they have never really taken time in their daily living to decide what it is they want and how they are going to achieve it.
29. Self-image
"Self" is the identity, character, or essential qualities that compose your personality, as you see them in yourself. "Image" is the reflection you receive from the projection onto others of this same "self." It is, then, only logical to assume that others are going to see and interpret your "self" exactly the same way you see yourself. If you hold yourself in high esteem, everyone that comes in contact with you will reflect this feeling and will respond to you accordingly. Conversely, if you have a low opinion of yourself, you project this to others. How can they do other than reflect your "inferior self" concept back to you? You see, it all comes right back to you! You can have the need, the desire, the adequately cultivated motivation, the right attitude, but if you lack the proper self-image you are missing a link in the pattern of your true success.
50. Self-discipline
Every living creature has needs, physical desires. These lead to a certain amount of motivation and to some extent some type of self-image within its own species and/or territory. Self-discipline is one of the attributes that separate the human species from the animal kingdom. We, as human beings, possess the capacity for self-discipline. Self-discipline starts in the mind. Through the process of thinking and evaluating, analysing all factors and data of a given situation, we reach a conclusion about this situation and our relationship to it. Then we govern our actions according to the conclusion we have already reached in our mind.Self-discipline is consistently adhering, in action, to this conclusion. Your self-discipline begins with your thoughts.
51. Possibility thinking
When you think in positive terms, expect positive results. When you think in negative terms, expect negative results. This is exactly what is going to happen. Think that whatever you undertake is possible and that you will accomplish what you have set yourself to do. Believe that it is possible for you to reach your goal in the best way and in the shortest amount of time. Not only should you think it is possible for you to do this, you must be positive you will do it. Possibility thinking — the "right mental attitude toward life," a positive thinking apparatus at work.
52. Creative imagination
Every creation has at its inception the spark of imagination. This flickering spark provides the initial energy to light your creative mind and illuminate your way to great accomplishments. You have, stretching before you, the vast reaches of the fields of innumerable opportunities. Opportunities of all descriptions to better your position in life and to know the deep joy of a more meaningful life. Your creative imagination helps you see, seize, harness, and use these opportunities for your own advantage.
53. Enthusiasm
Every successful person must possess enthusiasm! It is a strong and vital ingredient in a satisfactory life. This ingredient is not a luxury, but an absolute necessity. People who fail often pretend they are not interested in success. To pretend lack of interest when success is desired is to be dishonest and deceptive with the one person we must live with 24 hours a day, every day of our lives. That person is our Self! Success is the satisfactory achievement of an endeavour, regardless of what the endeavour might be
54. Stickability
You will not find the word "Stickability" in a dictionary. What it means can be explained by this illustration: "I thank God for my handicaps for through them I have found myself." These are the words of Helen Keller, who, in over eighty gallant years of existence, overcame handicaps and obstacles that seemed insurmountable. An illness at 19 months of age left her blind, deaf, and mute, living in "the shadows of the prison-house of the first years of my life."
The story of her life is well-known. She triumphed over her disabilities, met and became close friends with leaders in every walk of life. History abounds with achievers, who, in spite of every conceivable obstacle, hung on and "stuck to it" in sheer tenacity of purpose and strength of will. This is Stickability!
55. The Self
A person is important to himself or herself. The personality that interests us most is our own. In the session of self-discovery and now of self-development, the point of emphasis is on your "self" and your potential greatness. But just what is this "self" that is the only one of its kind, singularly belonging to one person--you? Each of us possesses certain qualities that are unique to us as individuals. Such qualities--the way we behave and make ourselves known--are spoken of as the essence of a person. In referring to this intangible, rather indefi nite something, we express the conviction there is a core that lies at the base of all outward signs of our personality. This is an innermost core that keeps a person intact and defines us as an individual.
56. Who Am I?
How was the Individual I now wear and know as "Me" fashioned? Why do I act, think and react the way I do? As you absorb these words, you are learning from the vantage point of a more mature mind, seeking to better understand your "self." You want to know how you developed into the person you are, and--more importantly--where you are going from here! It is from this point--your present location on the roadway of life. Where you are now is an excellent place to start. Looking back, you can examine your unfolding and maturing "self." Only then can you confidently look ahead, understanding and recognizing your "self" and having the assurance that your aspirations and abilities will carry you toward an ultimate goal of achievement.
56. Physical Self
The only tangible and visible part of the self is one's physical body. Like any other object in our physical environment, we perceive our body through our various senses. Our eyes can see our body; we can hear our stomach rumbling, hands clapping, etc. In fact, we see and hear a lot of ourselves! In a circumstantial way, our bodies often come to occupy a central role in the way we visualize "self." As adults, we recognize that the perception of the body relates to understanding and knowledge of large aspects of the "self." The body, to an extent, is experienced as the "outer boundary" of "self." It is well-known that the concept we have of ourselves physically is so firmly established that even drastic changes in the body may not be readily recognized in our mind.
57. The social self
The social "self" can perhaps best be defi ned as your "self" in action or reaction. It is the part of you that is expressed by action toward people or circumstances, or by your reaction to them. Your social "self" developed according to the cultural structure of your environment and by "trial and error" conduct on your part in relation to this environment. The process of becoming a human being is simply the process of becoming conformed to and moulded by the patterns approved by the age and environment in which you lived. More than anything, it is your attitude that has been moulded by your cultural environment. Your biological or physical strivings as an infant were "conditioned" by the social environment around you.
58. The psychological self
This leads us to the role of society in the formation of the self. "A great deal of our recognition of ourselves is attributable to the actions of others toward us." Your psychological "self" developed through a combination of the social and physical, plus your own evaluation, interpretation, and interaction with the daily events, circumstances, and individuals surrounding you. Up to this point we have been considering our development from the starting position of ourselves, emanating out from us. However, it is equally important to recognize ourselves from the viewpoint of the actions of others, reaching toward us.
59. The ideal self
The ideal self is a product of psychological development, and is signifi cantly infl uenced by social factors. The ideal self is the highest aspect of the whole "self picture." It provides a standard against which the rest of the self may be evaluated. However, before the ideal self can be examined and discussed, we must be aware of how one's level of aspiration affects the ideal self. Level of Aspiration. Since the "self" is an object of value to us, we all aspire to elevate the "self" to a higher level of importance. Everyone has in his or her mind something we would want to identify with, something we would like to see us become a part of: a job position, a materialistic goal, or an abstract goal. Whether this aspiration can be measured in tangible material terms or in abstract intangibles, it produces the same influence on the individual's present behaviour.
60. The self in action
The "self" is experienced by each person as enduring over time, remaining constant in some respects and changing in others. The identity of the self is preserved over the passing time. We perceive ourselves as the same person we have been since our birth, and we expect to remain so all of our days. We do, of course, recognize various changes in ourselves as we develop, but we still experience ourselves as the same "self." Our name is a permanent "marker" of self. In adulthood there are many other external supporters of our "self," such as our physical belongings, clothes, house, friends, etc. To other people observing an individual, the continuity of some of these external conditions is sufficient to make the individual the same person today that he or she was yesterday. That is, they regard them as not much different today than they appeared yesterday.
61. Self-identity
No course of study alone can reveal your potential; a person has to act, to serve, to love, to dare to know "ourself." While in action we can "step aside and watch self go by." One can examine one's effect on others, to see whether in truth they were "glad to see thee come and sorry to see thee go"--a devastatingly simple criterion of one's identity. Who In The World Am I? The noted psychologist, William James, made the statement that: a person has as many different selves as there are distinct groups of persons about whose opinion they care. Each of us experiences the truth of this in our everyday lives.
62. Attitudes
An attitude is an emotionally-toned idea or group of ideas. Attitudes usually have a direct bearing on behaviour. For example, we do not, as a rule, find in gambling houses those who have an unfavourable attitude toward gambling; and people with a favourable attitude toward the church are apt to spend time or money in supporting it. Much of our behaviour can be best understood in the light of our attitudes.
A national organisation created by Dr. G. W. Gallup measures the attitude of carefully-chosen samples of people toward government policies, candidates for public office, and like matters. By accurately predicting the outcome of a number of national and state affairs, Dr. Gallup has managed to achieve nationwide prominence through the Gallup Poll. Attitudes, of course, are affected by environmental influences, just as self-identity is. Differences in attitudes are not only important as they determine social behaviour, but also as they affect individual emotional adjustment.
63. Typology (character structure)
What do we mean when we say, or when we hear, "He or she is a person of good character"? Does it mean the same as when we say, "He/She has a good personality"? No, obviously they do not mean the same thing. The terms "character" and "personality" are very often used interchangeably in our language today. However, there is a marked difference in their meaning. Perhaps the best way to understand this difference is to go back to the original word. The word "character" is of Greek origin and means "engraving", whereas "personality" of Latin origin means, "mask.
64. Traits & types
A character trait is a persisting behaviour sequence that establishes a distinguishing pattern in a person. This pattern causes individuals to be identifi ed by others as a certain "type" of character. In a broader sense, "types" also refers to a class of individual who have distinguishing characteristics in common, setting them apart from other classes of individuals with other common characteristics. We often refer to some particular behaviour of an individual saying, "Well, that's characteristic of them!" What do we mean by this? We mean that each person's character falls into a general predictable pattern. We expect certain actions and attitudes because the one in discussion has been categorized into a type who will display predictable characteristic traits.
65. Personality growth
Everyone has an interest in personality--in our own or that of friends and associates. In our everyday dealings with other people, we are aware, through our own feeling, that human behaviour and personality is varied and interesting. At times it is even fascinating! But we are also very aware that sometimes the actions of other people just don't make sense! A new school needs to be built, yet citizens in a community reject the fundraising that would provide the money to build it. A beautiful, well-educated woman "throws her life away" by marrying a gambler and alcoholic. Families, who can hardly afford to buy groceries because of their staggering debts, go out and splurge on items of luxury! At such times we are inclined to say, "Now why do a thing like that? It doesn't make a bit of sense! I guess there's no figuring people out!" What we are striving to say, in essence, is that our own definition of personality has led us to expect certain kinds of behaviour from certain individuals.
66. Motivation
Motivation! A relatively simple word, yet one that is very often misused and misunderstood. Are you motivated? How? By what? Toward what?
All these questions must be answered before the term "motivated" or "motivational" can be used. So often this term is misappropriated in place of external manifestations perhaps related to something entirely different. Is there more than one kind of motivation? If so, what are they? How important is the prime motivation in your behaviour?
Can there be more than one motivational force at work at one time? The answers to these and many other questions on how human behaviour is affected by what are called the "motivational forces" present a rather complex picture of the nature of mankind.
67. Determination & image fi xing
The questions of how personality as a whole comes about, how it is maintained, and how it functions have been answered in the fi rst four probes. This can be seen by comparing the Webster's New World Dictionary defi nition of personality: The quality or fact of being a particular person; personal identity; individuality. Habitual patterns and qualities of behaviour of any individual as expressed by physical and mental activities and attitudes. The sum of distinctive individual qualities as impressing or likely to impress others. We know that personality is the sum of distinctive individual qualities. We have examined each of the separate parts that make up this whole. In the Seminar setting and in the written material, a great deal of emphasis is placed upon choosing a worthwhile purpose. You were urged to establish short-range goals, which, in turn, led to long-range goals, all designed to help achieve your chosen purpose.
Even though much time and explanation were spent upon these two subjects of Purpose and Goals, the actual choosing and decision-making was left up to each individual. In other words, the necessity of having a purpose with clearly defi ned goals was proven beyond the shadow of a doubt, yet what those goals and purpose were to be had to be your decision.
68. Be the self you need to be
In previous sessions we have discussed "self" in all of its various aspects, from first inception through elementary development. It has been defined, dissected and discussed! You have traced this "self" you are through heredity, environment and maturation. All of this exploration was vital to lead you to an adequate "self-understanding."
69. The occupational person
A person's vocation or occupation may be one of the greatest sources of satisfaction or, on the contrary, a source of disappointment, frustration, and failure. Our social status depends in part on the kind of job or profession with which we are identifi ed. The job is an important part of the life plan because it largely determines those with whom we associate and because it gives us the sense of being either productive or unproductive. Women and men face the problem of occupational choice, complicated for many of them by the complex relationship between homemaking and an outside job.
70. The group person
Do we have secret goals in life, or do our goals take shape as an extension of every public standard determined by the mores of society? In the absence of self-understanding, relationships with others are no more than interchanges of insignifi cant conversation. We have seen in previous sessions that the behaviour of an individual is often a result of hereditary makeup and the environmental influences that have been brought to bear on them during life. Logically, both sets of influences contribute to the whole "self" which is identifiable as a unique individual.
71. Human values
Each of us places a value on the material possessions we acquire in life. Be it a simple dress or a hilltop mansion, it has a dollar and cents value for which we barter, trade, purchase, or sell. It has been said: "Everything and everyone has its price." If we are to believe this statement, we must necessarily deny certain intrinsic, aesthetic, and human values. Indeed, we must place honesty, self-respect, and integrity above a dollar amount. Thus, in effect, is presented the basic issue regarding the disposition of Human Values. The purpose of this session is to take an in-depth look at value systems applicable to the human society.
72. Leadership skills
Before getting into a discussion of the assets of the Skills & Habits leader, let us consider some of the traits commonly associated with the leader and with the way they exercise leadership capacity through leadership skills. A leader has been variously described as "a person who has followers", "a person who has excelled in fields where others are less competent" and even as "a person who is able to structure will on the group." Certainly each of these descriptions is applicable to a position of leadership, but still there is more. Historically, a leader has been that person who is able to capture the imagination of the people, or the strongest physical member of the group, even the first-born son or daughter of the residing leader. And again, the definition will apply in part to defi ning leadership.
VOLUME SEVEN AND EIGHT
Growing your business – Coaching & Proven skills & Techniques
for getting more profitable business at less cost
74 Yellow pages
75 Trade shows and expos
76 Television advertising
77 Websites
78 The mock cheque
79 Telemarketing
80 Sponsorship
81 Great headlines
82 Special offers
83 Testimonials and referrals
84 Direct mail
85 Networking
86 Newspapers and magazines
86 Loss leader strategy
87 Lead boxes
88 Business cards
90 Joint ventures
91 Cold calling
92 The Because process
93 After sales follow up
94 Because…
95 Closing
96 Customer communications
97 Customer referrals
98 Guarantees
99 Objections & causes
100 Logos
101 Making appointments
102 Qualification checklists
103 Re – write quotes
104 Selling a wider range
105 Selling attitudes & attributes
106 Staff, office & vehicle presentation
107 USP's
108 Why test and measure